Thailand Reopening and New Travel Restrictions
Updated last October 6, 2021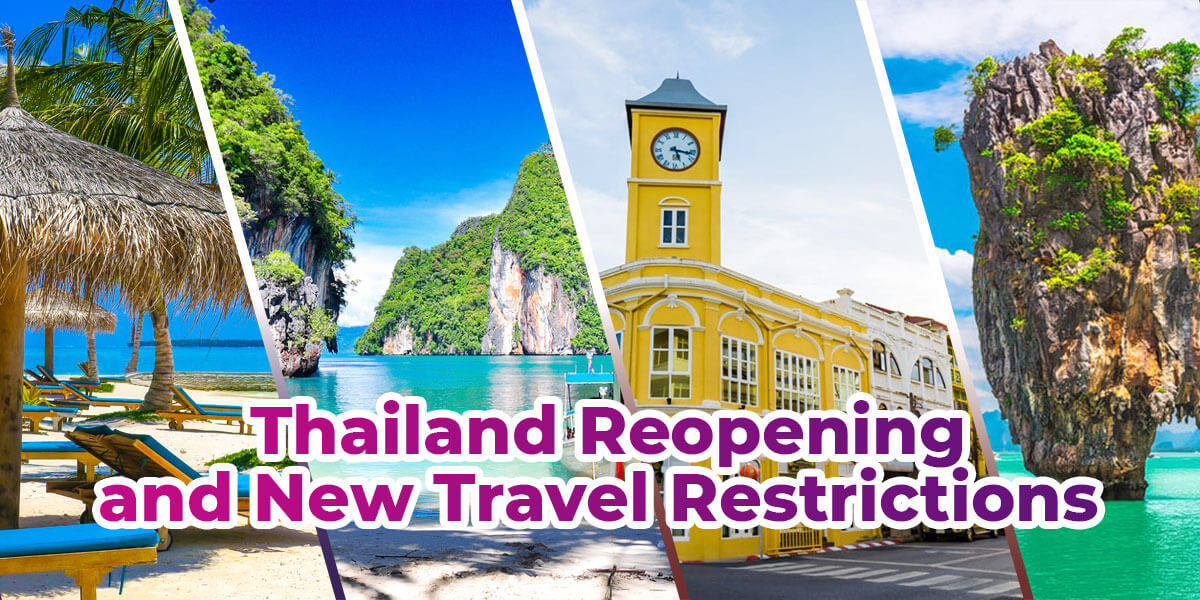 If Thailand has been on your bucket list, you may have been frustrated with the rules around the country's travel and quarantine policies following the pandemic. The good news is that all that is about to change - it's been a long time coming, but Thailand is finally reopening to international tourists with reduced quarantine times for those visiting under the Sandbox program.
So what are the new rules? And how does Thailand's sandbox program work?
In this post, we will answer some of the most common questions about the latest policies and cover what you need to know if Thailand is on your wish list of must-visit destinations.
How Does Thailand's Sandbox Program Work?
Thailand's Phuket Sandbox and Samui Plus Sandbox programs are new entry schemes allowing fully vaccinated travelers to enter the country without the usual quarantine requirements. It works by creating a temporary holding zone in specific areas of Thailand where international travelers can stay safe for a specific period of time before being allowed entry to other parts of the country. The plan was implemented in July this year, with Phuket being the first Thai province to allow travelers entry under the program.
What Are The Sandbox Entry Requirements?
A Thailand-bound traveler must:
Be fully vaccinated more than 14 days prior to departure and provide a valid WHO / Thai authority-approved vaccination certificate or proof of vaccination.
Provide a medical certificate showing a negative COVID-19 RT PCR test result no more than 72 hours prior to travel
Provide a valid Certificate of Entry (COE) in addition to a Thai visa (if required) or the relevant proof of visa exemption. (Proof of vaccination also needs to be submitted when applying for a COE.)
Show proof of payment for the sandbox RT COVID-19 tests. These are mandatory.
Purchase COVID travel insurance with coverage of more than 100,000 USD including coverage for medical emergencies and COVID-19 related treatment for the total duration of your planned stay in Thailand. You may purchase
Provide an airline ticket for an international flight to a sandbox destination without a stop in Bangkok (except for Samui Sandbox). If your planned stay is less than 7- nights, you will also need a ticket for an international flight from Thailand to another country.
Present a prepaid booking of an SHA Plus hotel for at least 7-nights.
Who Is Eligible?
Both Thai residents and foreign travelers are eligible to join the program.
Initially, the program was only available to travelers from low-medium risk countries. From October 1 though, Thailand has lifted the listing of countries per the level of COVID-19 transmission risks for Sandbox tourists and is now welcoming travellers from any country in the world to the program.
What Are The New Rules?
From October 1, more locations are being included in the Sandbox program and new, shorter stays for fully vaccinated individuals will take effect. Here is a summary.
Fully vaccinated foreign tourists visiting Thailand via the relevant sandbox programs can now stay for only seven days before being allowed to move on into other parts of Thailand.
The reduced sandbox stay in a Sandbox Hotels applies to those visiting under the Sandbox program to Phuket, Surat Thani (Ko Samui, Ko Pha-ngan, and Ko Tao), Phang-Nga (Khao Lak and Ko Yao), and Krabi (Ko Phi Phi, Ko Ngai and Railay Beach).
Aside from the reduced sandbox stay, Thailand has also reduced quarantine time for fully vaccinated international travellers arriving in Bangkok, from 14 to 7 days. For the partially vaccinated and unvaccinated travelers arriving in Phuket or Bangkok, they will be required to undergo a mandatory 10 days quarantine.
For more details, visit www.ThaiEmbassy.com/updates
Where To Stay?
Phuket is one of the most popular among the Sandbox programs. It has welcomed more than 38,000 visitors since July. To be able to come to Phuket without quarantine, fully vaccinated travelers must look for specific Phuket Sandbox hotels with SHA+ (SHA Plus) certification to reassure that the hotel has taken steps to prevent the spread of the COVID-19 virus. They need to stay for 7 nights in Phuket after which they can travel elsewhere in the country.
The most convenient way to book Phuket Sandbox hotels is by using a reliable online source and we would highly recommend checking if your chosen hotel is one of SHA+ hotels listed on this page: https://www.thaiembassy.com/travel-to-thailand/phuket-sandbox-hotels
Thailand Now Open for Business
Thailand has always been one of the most amazing places in the world - it was disappointing that so many people were unable to explore this beautiful country due to Pandemic restrictions. Now the country has reopened for business, travelers from any country will be able to enjoy its many amazing sights and sounds without worrying about having their vacation cut short due to lengthy quarantine requirements.




Flights to Thailand