U.S. Citizen Adopting a Thai Child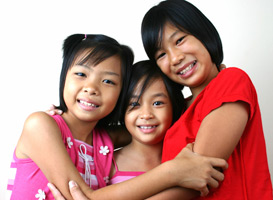 Like the U.S., Thailand is a member of the Hague Convention on Protection of Children and Co-operation in Respect to Intercountry Adoption so you must follow the convention process to adopt the child and bring him or her to the U.S. The convention process includes:
Choosing an accredited adoption service provider;
Applying to be found eligible to adopt;
Being matched with a child;
Applying for the child to be found eligible for adoption;
Adopting the child (or gaining legal custody for adoption in the U.S.) in Thailand; and
Bringing your child home.
Currently there are 4 accredited, private adoption service providers in Thailand in addition to the Thai government's Department of Social Development and Welfare. A list of accredited U.S. adoption service providers can be found at the Travel.State.Gov Adoption Service Provider Search.
After choosing an adoption service provider, you need to file form I-800A Application for Determination of Suitability to Adopt a Child in Thailand from a Convention Country with the U.S. Citizenship and Immigration Services (USCIS) to apply to be found eligible to adopt under U.S. law. After you are found eligible to adopt your information will be forwarded to the adoption service provider in Thailand who will review your information to determine whether you are eligible to adopt under Thai law. If you are found eligible again, you will be provided with a "referral" introducing you to a Thai child and including pictures, social history, and a health report. Then you may ask additional questions or decide whether to adopt this child.
To proceed with the adoption process, you need to file Form I-800 Petition to Classify Convention Adoptee as an Immediate Relative and the child's social history and health report with the USCIS. You may also need to file a waiver application for any known or suspected visa ineligibilities.
After the USCIS reviews and provisionally approves these documents, they will be forwarded to the U.S. Department of State and assigned to the U.S. Embassy in Bangkok. Then you will need to complete a visa application for your child. After the Embassy reviews the visa application, they will send a notification to the Thai adoption authority if the child appears eligible to immigrate to the U.S. Then DSDW will forward your application to the Thai Child Adoption Board (CAP) and schedule you for an interview with the CAB. You are now free to finalize the adoption or gain legal custody of your child.
After adopting or gaining legal custody of the child you will need to apply for a new birth certificate listing your name, apply for a Thai passport and apply for an immigrant visa at the U.S. Embassy in Bangkok. Once your child has a visa he or she can travel to the U.S.
More detailed information for Americans interested in adopting a Thai child can be found at https://travel.state.gov/content/adoptionsabroad/en/country-information/learn-about-a-country/thailand.html
Category: Adoption, Family Law

Siam Legal is an international law firm with experienced lawyers, attorneys, and solicitors both in Thailand law and international law. This Thailand law firm offers comprehensive legal services in Thailand to both local and foreign clients for Litigation such as civil & criminal cases, labor disputes, commercial cases, divorce, adoption, extradition, fraud, and drug cases. Other legal expertise of the law firm varied in cases involving corporate law such as company registration & Thailand BOI, family law, property law, and private investigation.